KCMC Southampton chemistry partnership opens new opportunities for innovation
The University of Southampton has been welcomed as the sixth academic partner of the Knowledge Centre for Materials Chemistry (KCMC), a centre of expertise that brings together leading-edge academic research facilities, knowledge and expertise in applied materials chemistry.
Southampton joins the KCMC's founder institutions Manchester, Liverpool and Bolton universities, and recent member University of Bristol, together with the Science and Technology Facilities Council at Daresbury.  The aim of the KCMC is to drive industrial growth for UK chemistry-using industries through the coordination, development and exploitation of frontline materials chemistry research.
Professor Gill Reid, Head of Chemistry at the University of Southampton, said: "We are delighted to join the KCMC and look forward to many new and beneficial collaborations with fellow researchers in academia and industry who, like us, are at the cutting-edge of transforming research into answers to real-world problems and finding solutions to some of today's toughest challenges. Read more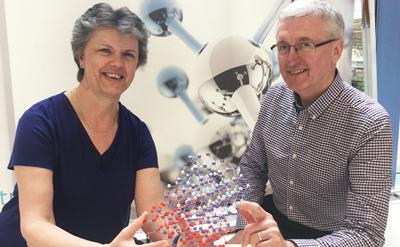 Professor Gill Reid welcomes Ron Swart as KCMC Knowledge Transfer Manager for Southampton